While Microsoft Teams is a great communication platform overall, it does have its issues. One issue I've encountered on numerous occasions is receiving the "Bad network quality" notification, followed by lagging meeting audio and video. Here are some proven steps you can take to improve your Teams network quality.
The Microsoft Teams "Bad network quality" notification indicates there is either a memory or bandwidth consumption issue. To fix it, delete Teams cache, close background applications, and turn off bandwidth heavy devices. If the issue persists, disable read receipts and turn off GPU hardware acceleration, backgrounds, and video.
Performing each of these steps will help limit the amount of memory and bandwidth your Teams application uses. As a result, you will notice less connectivity issues and improved meeting quality.
Depending on how significant your consumption issue is, you may need to perform some, or even all of these steps to notice an improvement.
Let's walk through each of these steps in greater detail.
Method 1: Delete Teams Cache
When you are experiencing quality issues, the very first thing you should try is deleting the cache.
Deleting the Microsoft Teams cache memory is a great way to address a variety of issues with the Teams application. Notably, you will not lose any user data by deleting the cache so no need to worry about that.
How to delete cache in Teams:
First, close out of Microsoft Teams and Quit the Teams application from the icon tray.

Then, use the file explorer to enter and search for the following file path: %appdata%\Microsoft.

Next, Delete the entire folder named "Teams".

Now open the Microsoft Teams Desktop app and sign-in.
Finally, click the Settings and more ellipses symbol (…) in the top, right hand corner of your Teams window and select Check for updates.

It's important that you do not skip the final step of checking for updates! Many users find that once they delete the Teams cache, certain features revert back to older software versions.
By clicking 'Check for updates', you force Microsoft Teams to identify the latest updates and push those updates directly into the app.
Method 2: Close Background Applications
It's truly incredible how much memory space you can free up by simply closing out of your background applications.
As a quick example, while I am writing this post I opened up the Task Manager. Look at how much memory the 8 open tabs in Firefox (over 2,400 MB) are taking up in comparison to Microsoft Teams (236 MB)!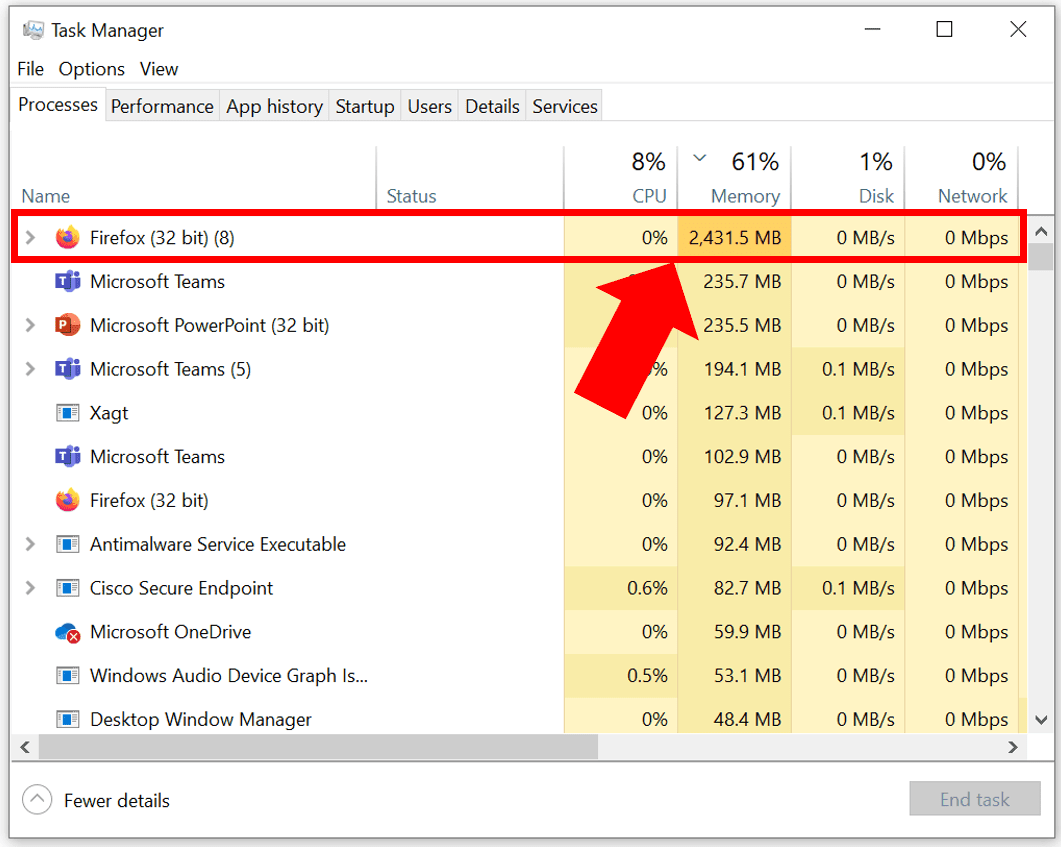 Before you jump on your next meeting, try closing out of any unnecessary background applications first.
This will free up a significant amount of memory and should immediately result in an improved experience.
Method 3: Turn Off Bandwidth Heavy Devices
It's also possible that your WiFi network bandwidth is overloaded. With more folks working from home than ever, this has become an increasingly common problem. You can quickly and easily check your internet speed using the PCMag Speed Test.
While working from home, a minimum internet speed of 50 to 100 Mbps download speed and 10 Mbps upload speed is recommended.
Maybe a family member hogging up all the bandwidth or maybe you have an unwanted, freeloading guest.
To discover all the devices that are currently on your network, login to your router's interface with the help of the identifying label on the back of the router.
Then, type the provided router address (starting with "http") into your web browser and use the provided username and password to login.
Once you are logged in you will be able to see all connected devices and their bandwidth usage. Did you identify the culprit?
Ask them to power off their devices. You can even manually kick devices off the WiFi and change the password. This is especially helpful if you happen to find an unknown connected device!
If you are still having quality issues or reconnecting problems despite disconnecting unused devices, you can also try using an ethernet cable to connect to your router directly.
Method 4: Turn Off GPU Hardware Acceleration
Hardware acceleration allows MS Teams to shift processing from the CPU to other specialized hardware. By default, Teams has GPU hardware acceleration turned.
In most cases this is a good thing and leads to optimal performance. In some cases however, this can cause the 'Teams bad network quality' issue.
To test if GPU hardware acceleration is causing your Teams quality issues, try disabling it.
How to disable GPU hardware acceleration:
First, select the Settings and more ellipses symbol (…) in the top, right hand corner of your Teams window and click Settings.

Next, in the General settings section under Application click the box next to Disable GPU hardware acceleration.

Finally, close out and restart Microsoft Teams.
Once disabled, try joining a dummy Teams meeting to see if you notice an improvement. If no obvious improvements are observed I recommend you go back in and re-enable GPU hardware acceleration.
Method 5: Disable Read Receipts
Another great way to reduce the amount of memory Microsoft Teams is using it to disable read receipts.
Beyond freeing up memory, I personally prefer read receipts to be turned off in general.
I don't like the idea of someone receiving instant confirmation that I've seen their message. It puts the pressure on to provide a quick response, even when that may not be the best use of my time in the moment.
How to disable read receipts in Teams:
First, click the Settings and more ellipses symbol (…) in the top, right hand corner of your Teams window and select Settings.

Next, select Privacy from the left menu bar and toggle Read receipts to Off.

Method 6: Turn Off Custom Backgrounds
Turning off custom backgrounds like the blur effect can also preserve in-app bandwidth usage.
How to turn off background in Teams:
First, at the screen titled Choose your audio and video settings, use the camera icon toggle to turn the camera on.
Once you have turned on your camera, Teams will automatically activate the Background filters button. Click Background filters and select the empty background filter on the right-hand side of the screen.
Method 7: Disable Teams Add-ons In Outlook
If you have tried all of these fixes and your Teams audio and video quality remains poor, you may need to disable the Teams add-ons in Outlook.
This is one of the last recommended methods because disabling Teams add-ons in Outlook can be rather inconvenient. By doing so, you will disable compatibility features between Teams and Outlook like direct Teams meeting scheduling in Outlook. Keep this in mind before proceeding.
How to disable Teams add-ons in Outlook:
First, in Outlook click File and then select Options.
Next, from the menu on the left hand side, click Add-ins and under the Active Application Add-ins section, select Microsoft Teams Meeting Add-in for Microsoft Office and click Go.

Then, make sure the box next to Microsoft Teams Meeting Add-in for Microsoft Office is checked and select Remove and then OK.

Lastly, close and restart both Microsoft Outlook and Microsoft Teams.
Method 8: Turn Video Off
Finally, because Teams data consumption is significantly higher for video vs audio alone, you can also try turning off your camera.
When I lead meetings with a large number of participants, I ask folks to only go on camera during introductions and when they are speaking.
While this can be a bit cumbersome to orchestrate, I have generally found this to greatly improve the meeting experience overall.
Final Word
Laggy and jittery Teams audio and video during a meeting can be hugely disruptive. Fortunately there are 8 proven ways you can improve meeting connectivity and quality:
Delete Teams cache
Close background applications
Turn off bandwidth heavy devices
Disable GPU hardware acceleration
Disable read receipts
Turn off custom backgrounds
Disable Outlook Teams add-ons
Turn video off
Each of these updates both within the Teams application and on your PC should enable you to get back to business as usual.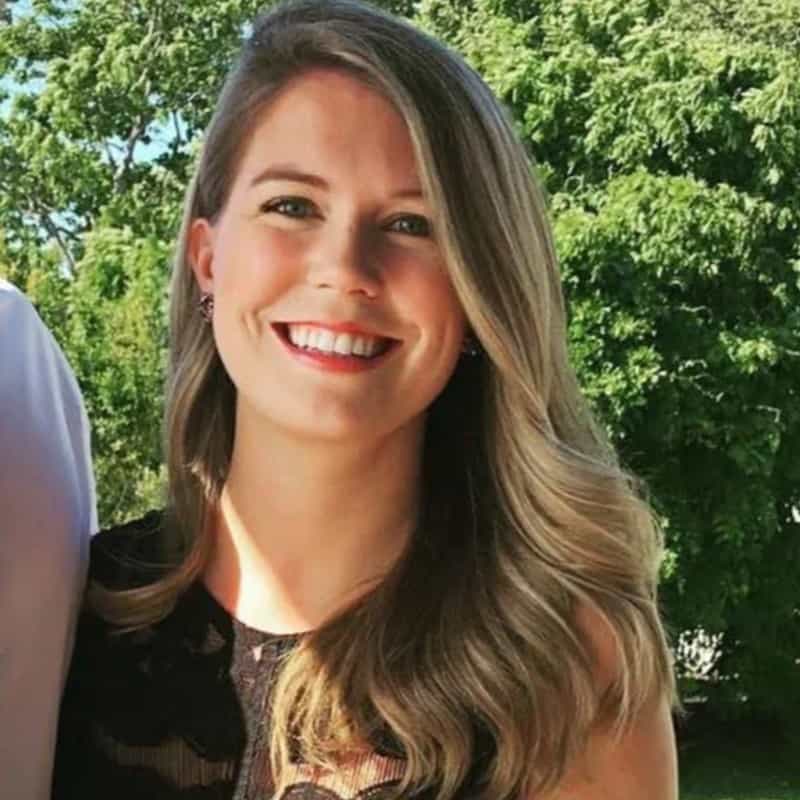 Chelsea Ashbrook is a Senior Manager of Corporate Digital Experience at Genentech. Chelsea received her B.A. from the University of Connecticut and has spent the last 11 years working in the technology field.