Today, your unkept office landed you here to learn how to blur background in Teams prior to joining your next meeting.
There are countless reasons why your home workplace ends up in disarray. And by now, we have all experienced days when our home office is simply not suitable to be on camera.
Fortunately for you, Microsoft (MS) Teams offers a simple solution.
How To Blur Background in Teams
Microsoft Teams, a part of the Microsoft 365 product line, is a business communication platform first introduced in 2017. Surprisingly, virtual backgrounds were not added as an offering until a few years after launch in April 2020.
Initially just a handful of pre-selected backgrounds were available. Today up to 30 virtual background options are available including the blur background effect.
To blur background in Teams, at the "Choose your audio and video settings" starting screen, turn your camera ON. Next, select the "Background filters" button. Your "Background settings" have now appeared. Lastly, select the "Blur" background option conveniently located at the top of the screen.
It is important to note that while blur and other custom backgrounds can be extremely useful, they do consume additional bandwidth and have been known to slow Teams down.
Like magic, your messy home office is now concealed!
This process varies slightly depending on whether or not you plan to add the blur effect before or during a video conference. There are also some notable differences between desktop and mobile devices.
Read on for further instructions with step-by-step screenshots covering each of these scenarios.
Before Teams Meeting – Desktop
Prior to actually joining your video conference on a desktop (regardless of whether you have a Mac or PC), there are three simple steps you must follow.
Related Reading: Best camera position for video conferencing
Let's use some visuals to help break each of these steps down in order…
At the starting screen titled Choose your audio and video settings use the camera icon toggle to turn your camera ON. Go ahead and make a goofy face. You haven't joined the meeting yet. No one can see you!

Ok great, your camera is working (don't mind my 5am morning look). Teams will now automatically activate the Background filters button. Notice how the Background filters button text has changed from light gray to bolded white? That means it is activated. Go ahead and select it.

With Background filters now selected, your Background settings have now appeared. The Blur background option is conveniently located right at the top. Select it!

You're all set and ready to join your colleagues. They will never know just how disorganized your home office has truly become!
Before Teams Meeting – Mobile
If you are about to join a meeting on an iPhone or Android, the process is very similar.
Once you enter and/or accept the meeting request you will start off in a waiting room. From here, select Background effects located just above your pre-loaded profile picture.

Next, select Blur from the available background effects displayed towards the bottom of your mobile screen. To close out of effects and re-enter the waiting room, press Done in the top right corner of the screen.

Lastly, press Join now to enter the meeting. Your new background effect will now be displayed!
During Teams Meeting – Desktop
What about a scenario where you have already joined your Teams meeting on a desktop device, BUT you have not changed your background yet?
No need to panic! Teams allows you to add a background filter mid-call.
Pro Tip: If you'd like you can select the Turn camera OFF option prior to taking the steps below to add the Blur background. Notably, these steps will work regardless of whether your camera is ON or OFF.
Start by selecting the More actions ellipses symbol (…) at the top of your screen. As mentioned, you can choose to first select Turn camera OFF while you add your Blur background. In these examples I will leave my camera on for illustrative purposes.

Next, select the Apply background effect.

Finally, select the Blur background option and click Apply.

Ok, fine. Maybe your colleagues caught a quick glimpse of your laundry pile that's been sitting there for a few days. It was only a quick glimpse!
During Teams Meeting – Mobile
Once you are already in a meeting on mobile, the More actions ellipses symbol (…) will be located at the bottom of the screen. Select it now.

Then select Background effects from the pop up list of actions available.

Lastly, select the Blur effect at the bottom of the screen and press Done in the top right corner of the screen to get back to your meeting.
Frequently Asked Questions
Why Is Blur Background Not Working?
In the vast majority of cases when the blur effect is either missing, not available, or not working, it is due to an administrator disabling this feature. This is a fairly common practice at larger corporations where they prefer you to use company branded backgrounds instead.
You can usually quickly confirm if this is the case by speaking with your IT department.
Can You Set Blur Background As Your Default Background?
Yes, but you don't need to do anything! As of late 2020, Teams will keep your latest select background as the default for future meetings until you decided to change it.
Final Thoughts
When working from home, we often do not want our colleagues to see how messy our home office has become.
Knowing how to add the Blur background in Microsoft Teams on desktop and on mobile can help you avoid embarrassment during your next presentation.
While the Blur effect is an excellent option to generate a distraction free background, it is not the only option to choose from.
With 30 pre-selected MS Teams backgrounds available, you have plenty of choices. There are also many free backgrounds you can consider. You can even upload your own custom company options!
So go choose a professional virtual background that minimizes distraction and confidently get back to videoconferencing today!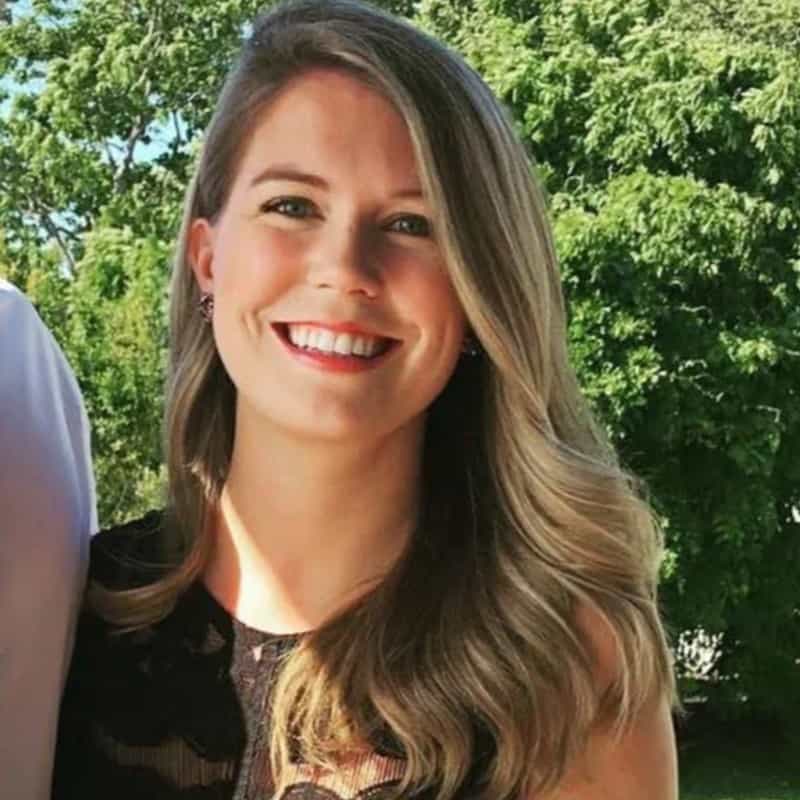 Chelsea Ashbrook is a Senior Manager of Corporate Digital Experience at Genentech. Chelsea received her B.A. from the University of Connecticut and has spent the last 11 years working in the technology field.