A very common issue Apple users encounter is discovering their iPhone flashlight icon greyed out in the Control Center. Fortunately, this problem is typically solved by performing a handful of quick troubleshooting steps.
iPhone Flashlight Greyed Out
If you discover your iPhone flashlight greyed out, close all applications, restart your iPhone, check for iOS software updates, and prevent device overheating. If the issue persists, try taking photos with the flash on, disable LED flash for alerts, remove and re-add flashlight to Control Center, and 'Reset All Settings'.
Let's review each of these steps in detail from start to finish.
I highly recommend you follow these steps in the exact order outlined below. Importantly, these steps will work on all iPhone models.
Step 1: Force Quit Applications
Before attempting any other fixes, try force quitting all active applications running in the background.
This issue is commonly caused by an app that uses the camera, like the iOS camera app, Instagram, etc.
Therefore, the quick and easy fix is to navigate to your home screen and fully close out of all open applications.
First, swipe up from the bottom of the screen to the center of the screen to open the the App Switcher.

Then, simply swipe every app up and off the top of the screen to close them.
Once all apps are closed, bring up the Control Center and see if the flashlight icon has returned. If it has not, there may be a different underlying cause all together.
Step 2: Force Restart iPhone
Another very common and easy fix to attempt is force restarting your iPhone. You won't lose any data or previously established settings during this process, so nothing to worry about there.
How to force restart your iPhone:
First, press and then quickly release the volume up button.
Next, press and quickly release the volume down button.
Lastly, press and hold the side button. Once the Apple logo appears, release the side button.
It can take up to 10 seconds for the Apple logo to appear. Be sure to continue to hold the side button until it does!
When your device has fully restarted, pull up the Control Center again and see if the icon has reappeared.
Step 3: Check For Latest iOS Software Update
It is also possible that a software bug is causing the problem.
Apple makes an effort to fix these types of glitches in their routine software updates. For this reason, it is important to ensure you are operating on the latest iOS software version that is available.
To download the latest iOS software update available:
First, located the Settings application.

Next, select General.

Then, select Software Update.

On the Software Update page, make sure Automatic Updates is set to On and if there is an update available, select Download and Install.

Once the update is complete and your iPhone has fully restarted, see if your device is functioning normally again.
Step 4: Prevent iPhone From Overheating
Something many users may not know is iOS devices have built-in protections to prevent overheating. If the internals of your iPhone get too hot, your device will protect itself by attempting to regulate its temperature.
As part of this self-regulation protocol, resource intensive apps like the flashlight may be temporarily disabled.
Ultimately, there are 5 primary reasons for iPhone overheating:
Too many background applications are open or an app has crashed, causing a constant feedback loop that leads to your iPhone's CPU usage to spike.
For a number of different reasons, applications can become buggy and faulty overtime, causing them to use far more battery power than they should be under normal working conditions.
The user has not cleared their web browser cache (excess files, cookies, and cache force the iPhone to work harder to retrieve data).
A broader iOS software bug.
A faulty charger (particularly if a wireless charger is being used with an iPhone case that is not specifically built for wireless charging).
Be sure your device is in the Apple recommended temperature environment range of 32 to 95 degrees Fahrenheit!
Step 5: Take Photos With Flash Enabled
Oddly enough, some users have reported that when they took a few photos with the flash turned on, their problem went away.
To try this, first open the native iOS camera app and press the small arrow icon in the top, middle of the screen. Then, from the menu that appears across the bottom of the screen, select the lightning bolt icon and press On.
From here, simply snap a few photos and see if the issue has resolved.
Step 6: Disable LED Flash For Alerts
Users have also indicated that after disabling LED flash for alerts, their flashlight icon re-appeared and started functioning properly again.
To disable LED flash for alerts:
First, navigate to Settings and select Accessibility.
Then in Accessibility, scroll down to the Hearing section and select Audio/Visual.
Finally, scroll down to the bottom and use the toggle button to turn LED Flash for Alerts Off.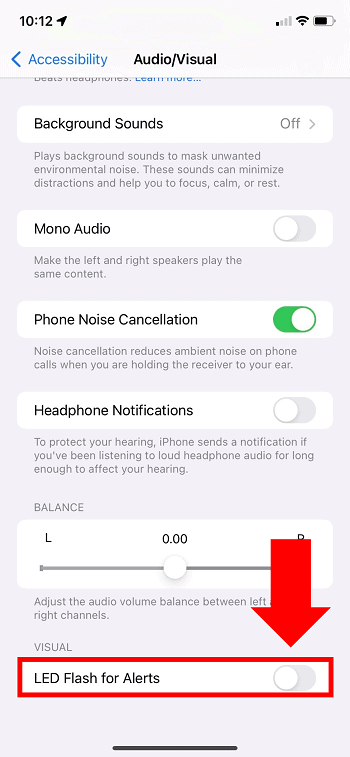 Step 7: Remove And Re-add Flashlight To Control Center
Removing and re-adding the flashlight app from the Control Center may also do the trick.
To remove and re-add flightlight to the Control Center:
First go to Settings and then select Control Center.
Then, select the minus (-) symbol next to Flashlight and select Remove.
Finally, scroll down and select the plus (+) symbol next to Flashlight to add it back to the Control Center.
Step 8: Reset All Settings
If each of these troubleshooting steps have not solved the issue, there is a likely a deeper software issue occurring.
Therefore, as a final attempt, I recommend performing a 'Reset All Settings'.
Something to consider is that when you reset all settings, everything in the settings application will return to factory default. You will need to re-enter your WiFi passwords, reconnect your bluetooth devices, etc.
This step is a magic bullet for all sorts of iPhone issues so in my experience it is absolutely worth the effort.
How to Reset All Settings:
First, select the Settings application.
Then, navigate to General.
Next, scroll all the way to the bottom and tap Transfer or Reset iPhone.

Finally, select Reset at the bottom of the screen.

Your iPhone will now shutdown and reset. Once you are back up and running, your flashlight issues should now be resolved.
Conclusion
If you discover your iPhone flashlight disabled, don't panic. This is a common issue with eight proven fixes.
iPhone Flashlight Greyed Out – Top 8 Fixes
Force quit applications
Force restart iPhone
Check for latest iOS software update
Prevent iPhone overheating
Take photos with flash enabled
Disable LED flash for alerts
Remove And re-add flashlight to Control Center
'Reset All Settings'
If you've tried all of these fixes, and yet you are still dealing with this issue, you can try contacting Apple customer service at 1-800-275-2273.
You can also use your iPhone's serial number to review your Apple warranty status and eligibility to purchase additional AppleCare coverage.
If these troubleshooting steps fixed the issue, or if you fixed the issue some other way, let me know in the comments section below!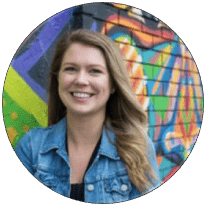 Chelsea Ashbrook is a Senior Manager of Corporate Digital Experience at Genentech. Chelsea received her B.A. from the University of Connecticut and has spent the last 10 years working in the technology field.
Her professional experience spans information technology services, web content management, and platform development.
For the past decade, long before the work from home revolution truly began, Chelsea has been working in the technology field remotely.
This blog is her outlet to share her findings with you.