Apple first released Screen Time in 2018 during the iOS 12 update, enabling users to closely monitor and restrict the amount of time spent on their devices. This feature has proven to be particularly useful, that's why it can be so frustrating when you encounter your iPhone Screen Time not working.
The good news is, this issue is almost always software-related and fairly quick and easy to fix. I'll walk you through a number of troubleshooting steps that worked for me the last time I experienced this problem.
iPhone Screen Time Not Working
If you encounter your iPhone Screen Time not working, restart your device, disable Low Power Mode, re-enable Screen Time, and set Date and Time automatically. If the issue persists, download software updates, and update your Family Sharing designation. As a final measure, re-login to Apple ID and Reset All Settings.
Let's review each of these fixes in detail from start to finish. I highly recommend you follow these steps in the exact order outlined below.
Importantly, these steps will work on all iPhone models.
Force Restart iPhone
For nearly any software glitch or bug related issue, one of the easiest and quickest fixes to try is force restarting your iPhone. So, let's start here and get the most obvious troubleshooting step out of the way first.
How to force restart your iPhone:
First, press and then quickly release the volume up button.
Next, press and quickly release the volume down button.
Finally, press and hold the side button. Once the Apple logo appears, release the side button.
It is important to note that it can take up to 10 seconds for the Apple logo to appear. Be sure to continue to hold the side button until it does.
When your device has fully restarted, once again see if the issue has resolved.
Disable Low Power Mode
Low Power Mode reduces the amount of power that your iPhone uses by automatically reducing or disabling background systems and processes.
While this can be a great setting for when your iPhone battery is getting low, Low Power Mode overrides your screen timeout settings and auto-locks the device in 30 seconds. This in turn can cause all sorts of problems like hotspot connectivity issues, skewed Screen Time reports, and more.
Navigate to Settings > Battery and be sure Low Power Mode is disabled before proceeding.
Disable And Re-enable Screen Time
Often times, simply disabling and re-enabling Screen Time on the affected device is enough to fix the issue.
Go to Settings > Screen Time and select Turn Off Screen Time at the bottom of the screen. A notification will pop up stating "Screen time will no longer be reported, and all limits, downtime settings, content and privacy restrictions, and communication settings will be turned off". Tap Turn Off Screen Time a second time to proceed.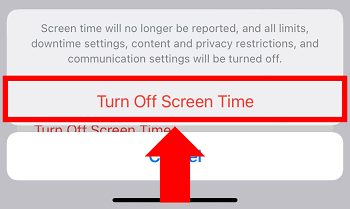 Once complete, I recommend rebooting your iPhone before going back into Screen Time and selecting Turn On Screen Time. Now all that's left to do is monitor your daily usage reports and see if this did the trick.
Set Date And Time Automatically
In order for your Screen Time data reports to provide accurate readings, your device needs to sync up to the correct data and time.
While less common, some users have reported specifically encountering this issue while traveling across time zones. If this is the case, make sure that you give your iPhone permission to set the data and time automatically.
To do so, go to Settings > General > Date & Time and ensure the toggle button next to Set Automatically is enabled.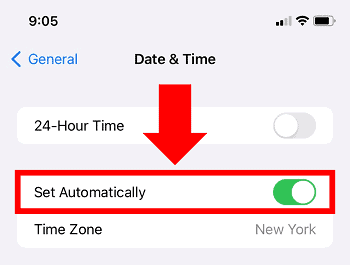 If you notice the date and time are still not properly synced, Location Services is likely disabled. To enable it, navigate to Settings > Privacy > Location Services and ensure the toggle button next to Location Service is enabled.
Download Latest iOS Software Update
Sometimes a broader software bug is causing the issue.
Apple routinely rolls out iOS software updates to try and fix known bugs and glitches. It is therefore important to ensure you are operating on the latest iOS software version that is available.
Don't let the latest update sit there unopened for months like so many users do!
To download the latest iOS software update available:
First, select Settings.

Then, navigate to General.

Next, select Software Update.

Here you will see if there are any recent software updates available. If there is one, select Download and Install.

Update iCloud Family Sharing Designation
If all the Screen Time setting options on your iPhone are greyed out except Content & Privacy Restrictions, you'll need to adjust your Family Sharing designations.
Screen Time works over iCloud Family Sharing, and if the appointed "family organizer" does not designate your device as a Parent or Guardian, your access may be restricted.
Using the family organizer's iPhone, go to Settings, tap their Apple ID name at the top of the screen, and then select Family Sharing. Next, tap Add Member and follow the onscreen instructions to add the device in questions as a Parent or Guardian.
Re-login To Apple Account
Because Screen Time is linked directly to your Apple ID, a syncing issue may also be the cause. To test this, simply sign out of your Apple ID and sign back in.
Before proceeding, I strongly recommend you back up your iPhone with iCloud.
To sign out, tap Settings and select your Apple ID name at the top of the screen. Then, scroll down and tap Sign Out.
A prompt will appear stating "Data removed from this iPhone will still be available in iCloud. All items will be removed from Wallet. Car keys are also permanently removed and you will need to manually add them again." Here you will also be asked if you would like to keep a copy of Contacts, Health, and Keychain on the device.
Make your desired choices and continue to fully log out. Finally, re-login by entering your Apple ID password.
Reset All Settings
So, you've completed all of the steps above without any luck?
There is a likely a deeper iPhone software issue going on, and I therefore recommend you 'Reset All Settings'.
Once again, keep in mind is that when you reset all settings, everything in the settings application will return to factory default. You will need to re-enter your WiFi passwords, reconnect your bluetooth devices, etc.
I will say however, that this step is a magic bullet for all sorts of iPhone issues and is absolutely worth the effort.
How to Reset All Settings:
First, select Settings.
Next, navigate to General.
Then, scroll all the way to the bottom and tap Transfer or Reset iPhone.

Lastly, select Reset at the bottom of the screen.

Your iPhone will now shutdown and reset. Once you are back up and running, Screen Time should be functioning properly again.
Frequently Asked Questions
How Do I Recover My iPhone Screen Time Passcode?
To recover your iPhone Screen Time passcode, go to Settings > Screen Time and tap Change Screen Time Passcode near the bottom of the screen, followed by Turn Off Screen Time Passcode.
On the next screen, where you are prompted to enter your Screen Time passcode, tap Forgot Passcode. Once you enter your Apple ID and corresponding account password on the next screen, you Screen Time passcode will be completely removed.
As a final step, within the Screen Time settings, simply tap Use Screen Time Passcode to set up a new one.
Why Is My Child's Screen Time Not Working?
If your child's Screen Time is not working and reports and restrictions don't appear to be functioning properly, Screen Time settings are likely disabled on your child's device.
First, using the family organizer's iPhone, go to Settings > Apple ID name > Family Sharing. Make sure your child's device is listed. If they are not, tap Add Member and follow the onscreen instructions to add the device in question as a Child's iPhone. From here, you can set up app and communication limits as desired.
Conclusion
Discovering Screen Time not working properly on your iPhone can be so frustrating. Fortunately, there are 8 proven troubleshooting steps you can try to get to get it fixed as soon as possible.
iPhone Screen Time Not Working – Top 8 Fixes
Force restart iPhone
Disable Low Power Mode
Disable and re-enable Screen Time
Set Date and Time automatically
Download latest iOS software
Update iCloud Family Sharing designations
Re-login to Apple account
Reset All Settings
If you've tried all of these fixes without any luck, you can try contacting Apple customer service online or at 1-800-275-2273.
You can also use your iPhone's serial number to review your Apple warranty status and eligibility to purchase additional AppleCare coverage.
Were you able to fix the issue? If so, or if you fixed the issue some other way, let me know in the comments section below!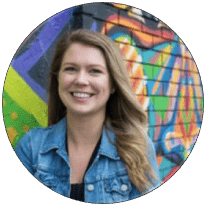 Chelsea Ashbrook is a Senior Manager of Corporate Digital Experience at Genentech. Chelsea received her B.A. from the University of Connecticut and has spent the last 10 years working in the technology field.
Her professional experience spans information technology services, web content management, and platform development.
For the past decade, long before the work from home revolution truly began, Chelsea has been working in the technology field remotely.
This blog is her outlet to share her findings with you.