With most of the world now fully working from home, millions of entrepreneurs have picked up a side hustle. Many of these side hustles require a quick and reliable label printer to ship products directly out of your home. The Rollo Printer is a great option, but they do come with a few challenges. One such challenge reported by many users is their device not printing.
Rollo Printer Not Printing
If you encounter your Rollo Printer not printing, confirm device is ON, inspect the power and USB cable connections, and confirm the correct active printer has been selected. If the issue persists, inspect the label size, and run automatic label identification. Lastly, roll back latest Windows update and clean printer.
Continue reading for further step-by-step instructions to get it back up and running!
We'll start with the easier more obvious fixes, and work our way to some move involved troubleshooting steps.
Step 1: Make Sure Rollo Printer Is Actually On
I know, I know. You didn't come here to be asked "did you try turning it on?" I get it, but I did say we are going to start with the most obvious troubleshooting steps first!
Humor me and check.
It is not uncommon to turn your printer on once and leave it on, never to check it again.
Locate the power switch on the back of the device and make sure it switched to ON.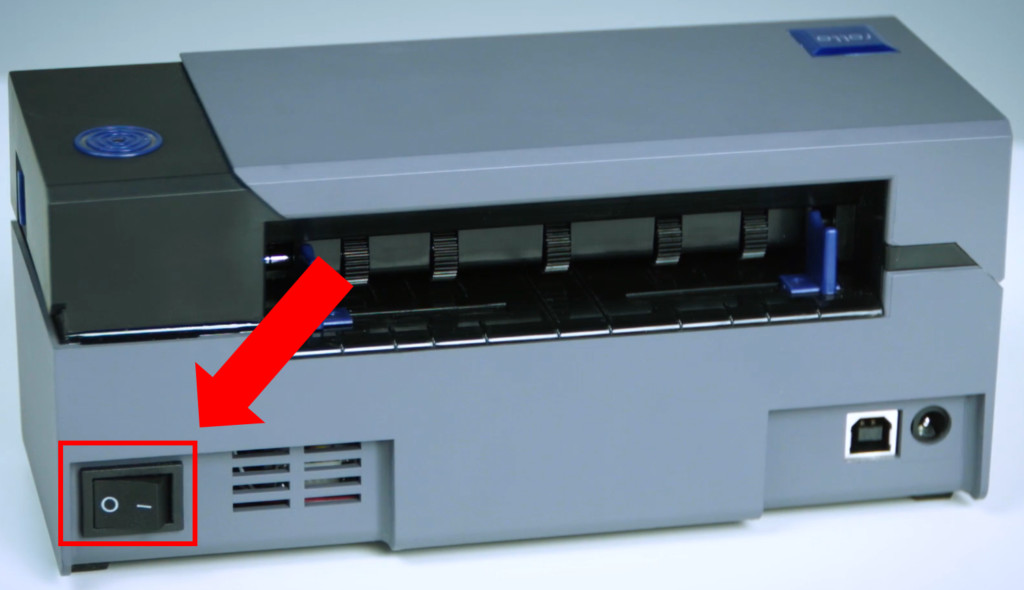 Step 2: Check That Power Cable Is Firmly Connected
Next, make sure that the power cable is firmly connected on both ends.
It is possible that your Rolo Printer won't print because the power cord is not securely inserted into the power socket.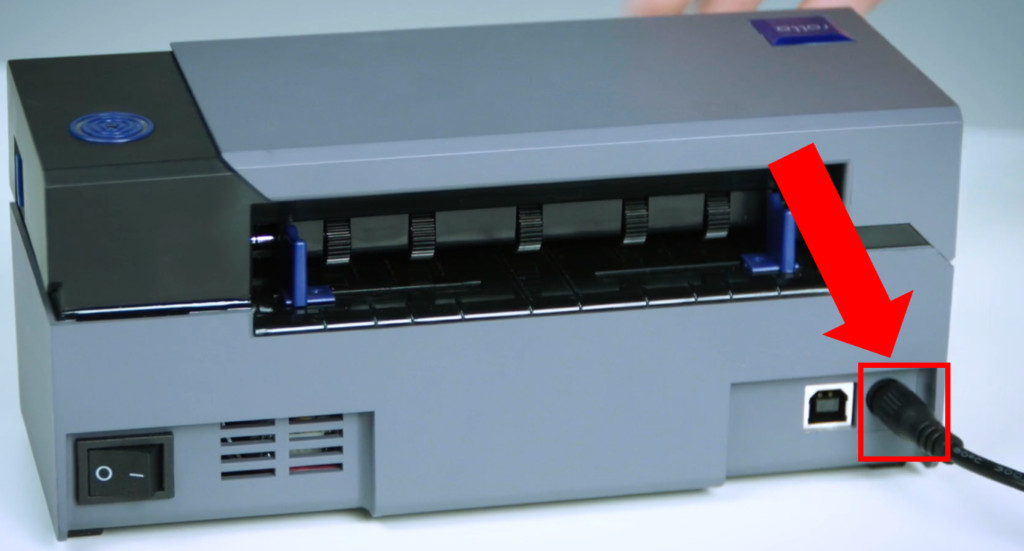 Check the connection on the back of your printer, between the power cord and the black power box and the power outlet on the wall.
At the same time, examine your power cord for any obvious damage. It is also a good idea to try another device with the wall outlet you are using to make sure it is functioning properly.
Step 3: Ensure USB Cable Connection Is Secure
At this stage, you are certain the power is turned on and the power cable is secure on all ends. But still, no luck.
Let's stick on the cable theme. An error can be caused even if the connection is slightly broken on either end of the USB cable.
Do you see that tiny space you see in the image below between the USB and the USB port in my laptop? You guessed it – that was enough to cause an issue.
Make sure there is a secure connection made with the USB cable on both ends.
This step of course will not apply to folks with the new WiFi Rollo Printer. You can read on below for WiFi specific troubleshooting support.
Step 4: Select The Correct Active Printer Name
Ok, we've gone through some of the basics. Now let's get into some more specific troubleshooting steps.
For some of you, your printer has been working just fine up until recently. Now you are observing a green light and labels are not advancing when you try to print.
In most cases this is due to the fact that you have changed the USB port to which Rollo was previously connected to your PC.
Ultimately, every time you plug your Rollo into a new USB port, Windows registers it as a new printer. For this reason, when you attempt to print, you are simply adding this request to the print queue of the previously registered version.
There are two very simple options to fix this:
Simply plug your printer into the original USB port you had been previously using.
If you wish to keep your printer in the new USB port, go to your Control Panel and select Devices and Printers. Here you will be able to identify and select the "active" version.

Wondering why in the heck your PC is making multiple versions of your Rolo Printer in the first place?Turns out it's so that you can have more than one Rolo Printer running from the same computer, each with customized label options enabled.
Step 5: Ensure You Have The Correct Label Size
The Rollo Printer supports label widths from 4cm (1.57″) to 10.4cm (4.1″).
If you are attempting to send a shorter or longer label to Rollo than it can handle, this could be the issue.
To check your label size in Windows:
In the Control Panel select Devices and Printers. Then, right click on Rollo, select Printer Preferences and click the Advanced button. Most 4 x 6 labels are 100mm x 150mm.
To check your label size in Mac:
Simply select 100mm x 150mm or 4″ x 6" size in the print window.
It is also important to check the printer settings of the application you are using. Some applications like Adobe Reader for example may be over-riding your label settings.
Double check Page Setup and Paper Size in the print window to make sure the in-app size settings are correct.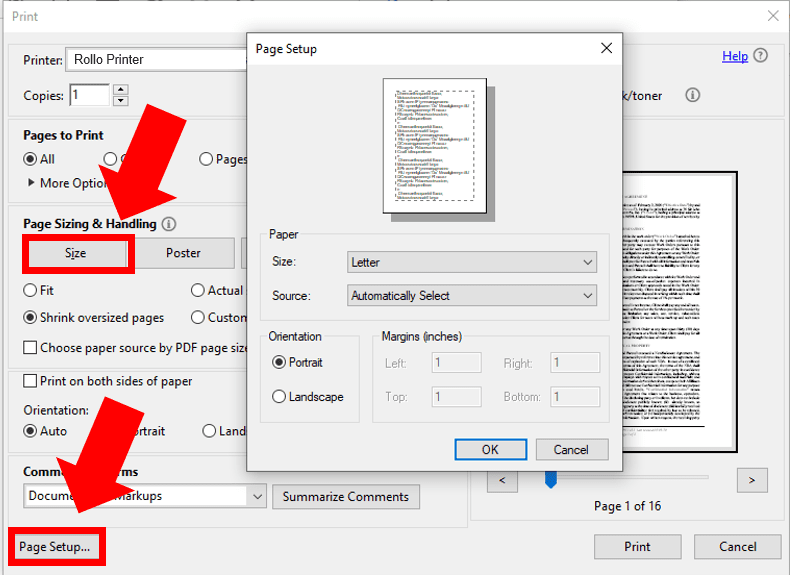 Step 6: Run The Automatic Label Identification
Is your device flashing a red light? Or perhaps your printer is skipping labels or feeding labels through continuously without printing?
If so, your issue could be due to Rollo needing to "re-learn" your label.
First, you will need to ensure you have multiple labels ready to be fed into your printer.
A common mistake is loading the labels upside down. The part of the label that you peel off should face the ceiling when it comes out of your device. Be sure to load your labels properly.
Next, press and hold the circular button on the top of the printer. When you hear a single beep, let go.
The automatic label identification process will now start. The labels will slide in and out and the device will analyze their size and other features.
Check out the video below starting at the 1:00 minute mark to see this process in action.
If, for some reason the identification process does not start, simply turn the printer off and then back on again using the power switch on the back. You can also try disconnecting the USB cable prior to starting the process.
Once the test is complete, re-connect the USB cable to Rollo and try your print.
NOTE: You can press and hold the top circular button until you hear two beeps to print a test page.
Step 7: Roll Back Your Latest Windows Update
Numerous users have been reporting that once their computer updated to Windows 11, their printer no longer works. Furthermore, Rollo support has not been able to solve the issue.
Longer term, the issue will need to be solved with a Rollo Driver update that has not yet been released at the time of this writing (15-Dec-2021).
In fact, Rollo's latest install update came on 19-Mar-2020. Go to Rollo setup support to see if any new drivers get released moving forward.
In the meantime, unfortunately it seems the only work around here is to roll back to Windows 10.
To roll back to Windows 10, Open Settings, select System and click on the Recovery page. On the Recovery page under the Recovery options section click Go back on the Previous version of Windows setting.
Then just follow the remaining steps as prompted and on the final window select Go back to earlier build.
If your printer is still now working after rolling Windows back, uninstall and then reinstall the driver.
Step 8: Clean Your Rollo Printer
Over time dust will start to build up on the inside of your Rollo Printer.
In same cases the blockage becomes so bad that the ink is not able to make clean contact with the labels.
To fix this, first turn off and unplug your printer. Then, open up your device and apply some isopropyl alcohol to the printer head. Clean it carefully and thoroughly with a QuTip.
After a thorough cleaning, give your printer a test run. It should be fixed!
Wireless Rollo Printer Not Connecting
Rollo also recently released the Rollo Wireless Printer in November 2021. Since then a number of users have been reporting WiFi connection issues.
I did some digging and I compiled the top listed troubleshooting steps I have been able to find to date:
Restart the PC
Restart the router
Disable the firewall
Uninstall and reinstall the Rollo Printer Driver
Manually add the Rolo printer by using the IPv4 address
If these steps do not get your wireless unit connected to the Wifi, there are two temporary workarounds:
Use the USB cable (not ideal – after all you bought the wireless version for a reason!)
Use your cellphone to start a hotspot and connect both your PC and your printer to the hotspot instead of your normal WiFi.
Conclusion
If you attempt to use your Rollo and discover it won't print, don't panic! Try these 8 troubleshooting steps to get your printer back up and running today.
Rollo Printer Not Printing: 8 Troubleshooting Steps
Make sure printer is actually On
Check that power cable is firmly connected
Ensure USB cable connection is secure
Select correct active printer name
Ensure you have the correct label size
Run automatic label identification
Roll back latest Windows Update
Clean Rollo Printer
Unfortunately, these fixes won't work for everyone. If this is the case, Rollo has a one year warranty policy from the date of purchase. You can also check out additional Rollo warranty terms and conditions.
If you are still having issues despite attempting each of these troubleshooting steps, you can submit a ticket to Rollo customer support.
I hope your found these troubleshooting steps helpful! If this post helped you fix your issue or if you solved your issue some other way, be sure to leave me a comment below so that we can include it!
Related Reading: Dymo printer printing blank labels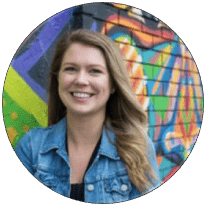 Chelsea Ashbrook is a Senior Manager of Corporate Digital Experience at Genentech. Chelsea received her B.A. from the University of Connecticut and has spent the last 10 years working in the technology field.
Her professional experience spans information technology services, web content management, and platform development.
For the past decade, long before the work from home revolution truly began, Chelsea has been working in the technology field remotely.
This blog is her outlet to share her findings with you.