LG has one of the highest rated monitor lineups out there. Having said that, users have fairly consistently voiced complaints about the overall stand setup. More specifically, users have noted that detaching the display stand is far more complicated than it needs to be.
Here are the exact steps you need to follow!
LG Monitor Stand Removal
To perform LG monitor stand removal, first disconnect all cables and place the device screen-down on a flat, clean surface. Next, remove the single screw on the bottom of the stand base to disassemble it. Lastly, press the release tab and simultaneously pull the stand body firmly towards you.
That's it. The stand is now fully removed and the display is ready to be mounted or packed up for safe keeping.
Continue reading for more detailed step-by-step instructions and supportive images!
Step 1: Prepare The Monitor
First and foremost, you want to make sure to remove any and all cables connected to the monitor.
Next you'll want to find a clean flat surface where you can place your device. This can be an open desk, table, or even your bed.
Because the screen needs to be face down, I also highly recommend you first lay down a clean towel or soft cloth to protect the display screen.
Go ahead and position the monitor so that the stand portion is hanging over the edge of whatever surface you have selected. This will ensure easy access and make the process easier.
Step 2: Disassemble Stand Base
Ok, it's time to start disassembling the base.
While looking directly at the bottom side of the stand base, you will notice a single flathead screw. This is true regardless of whether your specific LG monitor model has a rectangular or curved base.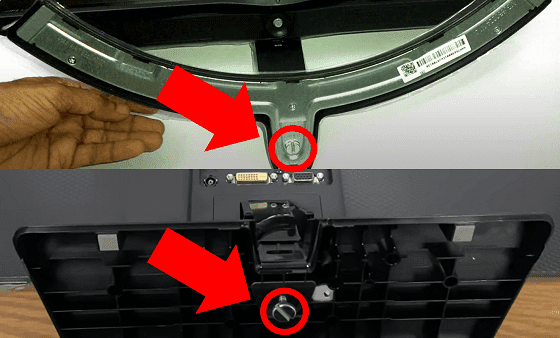 If you are having trouble locating the base screw, you may be dealing with an older display that has a slightly different setup. If this is the case, enter your device's model number into the LG manual lookup for more detailed instructions.
Using an appropriately sized standard (flathead) screwdriver, turn the screw counterclockwise (left) to loosen and fully remove it.
Notably, if you do not have a screwdriver, often times a coin like a quarter will do the trick!
With the screw fully removed, pull the stand base away from the stand body and rest of the monitor to disassemble it.
Step 3: Disassemble Stand Body
You will now notice that all that remains is the stand body.
As it turns out, removing this portion is the step most users have difficulty with.
As a first effort, while holding the monitor in place with one hand, attempt to firmly pull the stand body away from the monitor and towards you with the other hand.
If you find it difficult to remove, you will need to press the hidden release tab on the front side of the stand body, directly beneath the monitor display. While a standard screwdriver is the best tool for the job, a pen could also be used.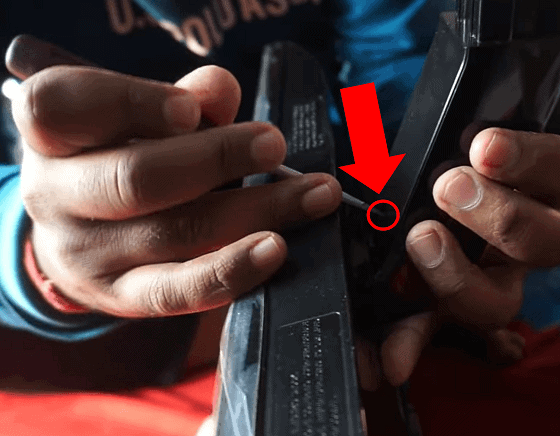 I recommend that you press the tab and begin to pull the section off simultaneously. You will hear a 'click' once it is fully released.
That's all there is to it!
And remember, whether you are planning to use a new stand or mount your display, make sure that you firmly reconnect the cables during setup!
Loose cables can lead to screen flickering, audio issues, and all sorts of monitor problems that are often easily avoidable.
Conclusion
Attempting to detach your LG monitor stand can sometimes feel complicated and be a bit frustrating. Fortunately there are 3 easy steps you can follow to speed things along.
LG Monitor Stand Removal – 3 Step Process:
First disconnect cables and place monitor screen-down on a flat, clean surface.
Then, remove the screw on the bottom of the stand base to disassemble it.
Finally, press the release tab and simultaneously pull stand body firmly towards you.
So, you've tried each of these steps without any luck? You can try contacting LG Customer Service online or at 1 (800) 243-0000.
Additionally, while uncommon, the stand may not be functioning properly and in some instances it may even be broken. If this is the case, you can look up your LG warranty policy.
Hopefully this was helpful. If this post helped you solve your issue, or if you solved your issue some other way, be sure to leave me a comment below so that we can include it!
Chelsea Ashbrook is a Senior Manager of Corporate Digital Experience at Genentech. Chelsea received her B.A. from the University of Connecticut and has spent the last 11 years working in the technology field.